The ceramics of Giuseppe Mazzotti is a craftsman who produces his products completely by hand from 1903 in Albisola.
The Manifattura Ceramica GIUSEPPE MAZZOTTI was founded in 1903 by Giuseppe Bausin Mazzotti who was succeeded by his sons Torido, Tullio and Vittoria.
In 1959 the Mazzotti brothers close the paternal company.
Torido, the firts son, starts a new company (with agreement of brothers) maintain the ownweship of name original Giuseppe Mazzotti and the industrial use of the casts and models of the factory of the his father Giuseppe Bausin Mazzotti
His wife Rosa and son Giuseppe Bepi work at the factory; with time Bepi gradually takes on the role of commercial director.
In 1988 Torido died and the following year his son Giuseppe Bepi Mazzotti became the sole owner of Giuseppe Mazzotti in 1903 continuing the production of Torido.
In 2005 he left the company to his son Tullio who continued the ceramic work of the glorious Giuseppe Mazzotti in Albisola.
Initially the company was in the ancient village of Albisola named Pozzo Garitta, then it opened a branch in Albisola Superiore and in 1934 it gathered its headquarters at the mouth of the Sansobbia Torrent in Albisola Mare, where the current Giuseppe Mazzotti still maintains its activities.
Manufacturing factory have marked the ceramics of the twentieth century, both with their own artisan productions, now much sought after by the market for ancient trade, and for the relationships they have developed with the art world.
Albisola is a charming village in Liguria, overlooking the Mediterranean Sea and the Laboratory is just a few steps from the beach. From the beginning of the atelier he has woven his experiences with the artistic movement of the twentieth century and has continued to become a reference point for the production of ceramics.
In the thirties Filippo Tommaso Marinetti and the futurist artists such as: Fillia, Fortunato Depero, Nicolaj Diulgheroff, Nino Strada, Bruno Munari, Alf Gaudenzi, Mario Anselmo, together with the Mazzotti family, made ceramics that were the expression of Futuristic Movement.
These were the works of art that are still made today by Tullio Mazzotti, fourth generation of the Mazzotti ceramic family, using the same design, the same material and the same manual processing procedures.
In the fifties and sixties years other artists work under Mazzotti ; Lucio Fontana, Asger Jorn, Aligi Sassu, Enrico Baj, Sergio Dangelo, Corneille, Sebastian Matta thus make the relationship between ceramics and art inseparable.
Today the Giuseppe Mazzotti pottery is a cultural reference point both in Italy and worldwide for the production of limited edition designs and hand-crafted ceramics made for clients on a commission orders.
______________________________________________________________________________________________________________________________________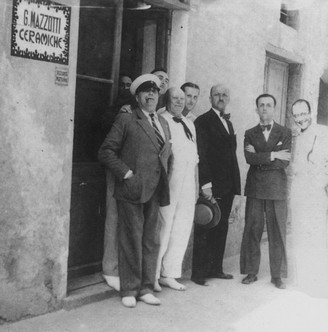 Albisola 1932 ___
Vittorio Osvaldo Tommasini (FARFA), Torido e Giuseppe Bausin Mazzotti, Angelo Platino, Filippo Tommaso Marinetti, Luigi Colombo (Fillia), Tullio d'Albisola Mazzotti